You Won't Believe This Super-Rich Chocolate Mousse Is Actually Vegan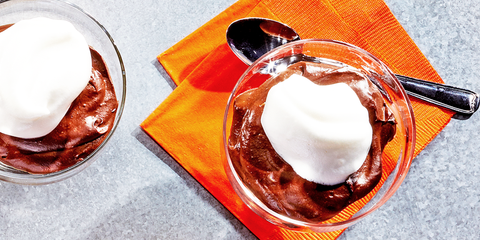 The star ingredient in this chocolate mouse topping: bean water. No kidding.
Called aquafaba (probably because it sounds waaaaayy better), that liquid you pour out of a can of chickpeas without a second thought is actually a miracle egg substitute. Just give it a quick beat and the stuff fluffs up into a white cloud that'll make for the perfect topping to any dessert, especially this chocolate-y vegan wonder.
And if you thought the coolest ingredient in this recipe was leftover liquid from a can, guess again. This mousse is made from mashed avocados whipped into creamy perfection, along with the help of vegan chocolate and a little unsweetened cocoa powder. What could be better than getting your avo-fill and sweet-tooth satisfaction in one sitting? Answer: nothing.
A texture as smooth as this one deserves to be served at dinner parties to impress your guests, not only because it looks good and it's made from the unexpected, but because it's the perfect way to keep your guests talking about your kitchen skills until they're back home wishing they'd taken a doggy bag. Then again, you could just make the vegan chocolate mousse for yourself and store it for a week of drool-worthy goodness (yep, do that).
Whatever you decide, just know that a bowl of this avocado mousse means a helping of fiber, vitamin E, folate, potassium, and avo's signature "healthy fat" profile, topped off with a sweetness that'll have you filing this recipe under "fave."
can coconut milk (do not shake)
mashed avocado (from about 2 Hass avocados)
bittersweet vegan chocolate, melted
maple syrup
can chickpeas
confectioners' sugar
cream of tartar
pure vanilla extract
unsweetened cocoa powder, for serving
Per serving: 380 calories, 4 g protein, 36 g carb, 8 g fiber, 24 g sugars (14 g added sugars), 27 g fat (15 g sat fat), 10 mg sodium
This recipe originally appeared in the April 2019 issue of Women's Health. For more intel on how to live a happier, healthier life, pick up an issue on newsstands now.
Source: Read Full Article