To Improve PsA Outcomes, Address Common Comorbidities
Only about 30% or fewer of patients with psoriatic arthritis (PsA) on therapy achieve disease remission by any definition. One reason for this may be inadequate attention to common comorbid conditions, Alexis Ogdie, MD, MSCE, declared at the 2021 Rheumatology Winter Clinical Symposium.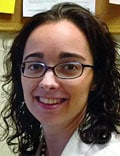 Dr Alexis Ogdie
"I believe that addressing off-target aspects of disease is really important to improving the patient experience of their disease. We might need to target these directly in order to improve outcomes," said Ogdie, a rheumatologist and epidemiologist at the University of Pennsylvania, Philadelphia, who coauthored the current American College of Rheumatology/National Psoriasis Foundation PsA guidelines.
Since rheumatologists are by now well informed about the increased cardiovascular risk associated with PsA, she focused on two common comorbidities that get less attention, both of which are associated with worse clinical outcomes in PsA: obesity and mental health issues.
Anxiety and Depression
Ogdie was first author of a large, population-based, longitudinal cohort study of cause-specific mortality in 8,706 U.K. patients with PsA, 41,752 with RA, and more than 81,000 controls. Particularly striking was the finding of elevated mortality because of suicide in the rheumatic disease patients: a 203% increased risk in the PsA population, compared with the general population, and a 147% greater risk in patients with RA.
Overall, 30%-40% of PsA patients have comorbid depression and/or anxiety.
"That's pretty striking. It's also true for rheumatoid arthritis and axial spondyloarthritis. And if you're depressed, you're much less likely to respond to therapy in the way that we are measuring response to therapy," Ogdie said.
Her approach to screening for depression and anxiety in her PsA patients, and indeed in all her other patients, is to begin by normalizing the topic, explaining to them that these affective disorders are common among patients with these disorders. She lets her patients know they can talk to her about it. And she informs them that, while effective treatment of their rheumatic disease may improve their depression or anxiety, managing those is also important for improving their disease. Additionally, understanding whether depression is present is important prior to prescribing certain medications. Apremilast (Otezla), for example, can worsen preexisting depression.
"Ask about signs and symptoms of depression," Ogdie urged her colleagues. "I do this at every single visit in my review of symptoms. This is one I don't skip. I ask: 'Do you have any symptoms of depression or anxiety?' "
Structured evidence-based screening tools, many of which are well suited for completion during a patient's preappointment check-in survey, include the Patient Health Questionnaire–2, the PHQ-9, the Patient-Reported Outcomes Measure Information System–10, PROMIS–Depression, and Routine Assessment of Patient Index Data 3.
"I also really like the PROMIS-29. It covers many domains of interest: depression and anxiety, sleep, fatigue, pain, physical function. It gives a lot of information about what's going on in a patient's life right now," according to the rheumatologist.
The main thing is to regularly screen for anxiety and depression and then refer symptomatic patients for further assessment and treatment. This is not something that all rheumatologists have been trained to do.
Obesity
Ogdie was lead author of a national CORRONA Registry study which concluded that obese patients with PsA were only half as likely to achieve remission on a tumor necrosis factor (TNF) inhibitor, compared with nonobese patients. She believes the same holds true for all other types of therapy: Across the board, obesity is associated with a poor response. And obesity is much more common in PsA patients than the general population in every age group. Moreover, obesity is associated with risk factors for cardiovascular disease and is associated with fatty liver disease, two other major comorbid conditions in the PsA population.
The CORRONA Registry findings are supportive of an earlier Italian prospective, observational study of 135 obese and an equal number of normal-weight PsA patients, all of whom started on a TNF inhibitor and were followed for 24 months. In a multivariate-adjusted analysis, obesity was independently associated with a 390% higher risk of not achieving minimal disease activity.
The same Italian group subsequently conducted a prospective dietary intervention study in 138 overweight or obese patients with PsA starting anti-TNF therapy. A total of 59% of participants randomized to either of the two dietary interventions experienced at least a 5% weight loss at 6 months. The key study finding: Compared with the subjects with less than 5% weight loss, those with 5%-10% weight loss were 275% more likely to achieve minimal disease activity at 6 months, and in those with greater than 10% weight loss the likelihood of attaining minimal disease activity increased by 567%.
"We're talking about a disease where treatments tested in clinical trials have odds ratios in the 1.2 range, compared with other therapies, so this is a really striking difference," she observed.
Several studies have demonstrated that obesity in psoriasis patients is a risk factor for developing PsA. Recently, U.K. investigators took things a step further, reporting in a huge observational study that obese or overweight psoriasis patients who reduced their body mass index over a 10-year period had a corresponding reduction in the risk of developing PsA, compared with overweight or obese psoriasis patients whose BMI remained steady over the same period.
What's needed now is access to programs to help patients with PsA lose weight. Health insurers are often unwilling to provide coverage. "We have a really tough time getting the patients in to see a nutritionist unless they're willing to pay out of pocket," Ogdie said.
Physical activity is an important element in successful weight loss. It also is recommended in practice guidelines for patients with inflammatory arthritis because of its salutary effects on disease activity scores, pain and stiffness, sleep, and quality of life. But a recent survey conducted by Ogdie and coworkers concluded that patients with PsA and other forms of inflammatory arthritis don't receive much exercise guidance from their rheumatologists. About 60% of subjects were inactive. Those who were physically active typically engaged in aerobic exercise but were much less likely to do the other guideline-recommended forms of exercise, namely flexibility, balance, and resistance training. The patients' report of low engagement of their physicians "suggests an opportunity for more prescriptive exercise discussions," according to the investigators.
Diabetes, a critical risk factor for cardiovascular disease, occurs at an increased incidence in PsA. This was demonstrated in a U.K. cohort study coauthored by Ogdie. The study, which included nearly 4,200 individuals with PsA, concluded that they had a 43% greater incidence of diabetes than the general population in an analysis adjusted for body mass index, smoking, alcohol use, and demographics.
New-onset diabetes can be readily picked up by rheumatologists based upon the laboratory work they often order at patient office visits, or during their review of symptoms, she noted, and added that the U.S. Preventive Services Task Force recommends ordering a hemoglobin A1c test every 3 years.
Ogdie reported receiving research grants and/or consulting fees from numerous pharmaceutical companies. Her research is also funded by the National Institute of Arthritis and Musculoskeletal and Skin Diseases, the Rheumatology Research Foundation, and the National Psoriasis Foundation.
This article originally appeared on MDedge.com, part of the Medscape Professional Network.
Source: Read Full Article