This Woman Swears by the 'FBG' App That Helped Her Tone TF Up
When Chelsea Chaves, 27, had her son at 19, she wasn't worried about losing baby weight. "I was really skinny and I never had to do much to stay in shape," says the former high school and college cheerleader.
But by the time her son was 2 years old, Chaves was dealing with a full-time college course load and a part-time job coaching cheerleading in her hometown while her husband also worked and attended school. "We were just busy with school and traveling all the time," says Chaves. "If I cooked, I'd make pasta or sloppy joes." Fast food was their time-saving go-to.
Those habits led to a slow and steady weight gain. She tried to combat it with diet shakes and supplements her cousin liked, but they didn't work for her. "Each time I tried them, I'd lose 10 pounds and gain back 15," says Chaves. By the end of 2015, she reached her highest weight.
On vacation in Europe that year, Chaves and her family took several walking tours and she was surprised she couldn't keep up with the group. "I had a really hard time trying to breathe and fell behind everyone," she says.
Starting the Fit Body Guides
When she got back to the States, Chaves discovered Anna Victoria's Fit Body Guides. Although she'd been following Victoria on Instagram for a while, she never tried any of her programs. But Chaves decided to give it a shot after seeing a motivational post on Victoria's 'gram that said there's always an excuse not to work out and that you have to prioritize your health to make it happen.
After a free two-week trial of Victoria's FBG PDFs (it was 2016, guys), Chaves realized she really loved working out and wanted to keep up her progress. She bought the beginner 12-week program and followed along. Her new routine consisted of hitting the gym five or six times a week to lift dumbbells and kettlebells and to knock out high-intensity interval training exercises like burpees, lunges, squats, and mountain climbers. Each week gets progressively harder, increasing weights or reps.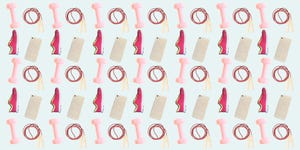 Although she says she gets bored easily, the routines, which change up every two weeks (on the PDFs and now in the app), keep her motivated and pumped for each sesh. "The more I did the workouts, the stronger I'd get," she says.
Started my 12 week plan today after doing the free trial for a few weeks!! #fitbodyguide #fbggirls #fbg #annavictoria
A post shared by Chelsea Chaves (@chelsea.chaves) on
Making progress
Besides getting fitter, Chaves began feeling so much more confident at the gym—especially in the weight room. A few years back, she joined a women's only gym, and even that environment had her feeling some type of way about all the equipment and what the hell to do with it. But with the FBG plan, she felt ready to conquer any move or machine, even when she started working out at her university's co-ed gym.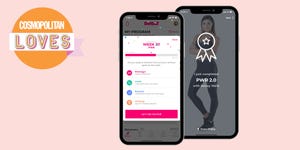 Although she didn't lose a ton of weight at first, Chaves noticed that her clothes started fitting better and her body looked noticeably different.
About a year into using FBG, she bought Victoria's Fit Body Guide Round 2.1, a nine-week plan that builds on the workout moves in the beginners' guide and uses heavier weights. She was hooked. "The endorphins I get when I lift make me feel really good, like a badass," she says. "I feel stronger mentally and physically—it's like therapy."
Finding a fit fam
After doing the plan for a couple of months, Chaves created an Instagram account to record her progress and connect with other women. She was inspired to post her own workout selfies and felt amazing when fellow #FBGGirls would cheer her on in the comments. "The more transparent I was on Instagram, the more I realized how supportive people were," she says, adding that she's friends with many women in the community she's never met IRL.
Motivation Tuesday!!! I am not one to care too much about the number on the scale, but when you are 2 lbs away from the lowest weight you've been in 3 years, there is reason to care!! I woke up so motivated this morning because I am finally seeing the results that I have wanted for so long, and it's because I am finally taking care of my body outside of the gym, and getting in all of the nutrition and support that it needs for recovery after workout! I am beyond excited to see how far I can push myself to be the best version of me! #competewithyourself #pushyourself #1stphorm #iam1stphorm #legionofboom #sweat #results
A post shared by Chelsea Chaves (@chelsea.chaves) on
Figuring out food
With a packed schedule, it was tough to make weekly meal prepping a habit. When she did, Chaves ended up getting sick of the same thing every day and tossing out half of the food. But as she became more in tune with her body, which she credits to the workouts, she started cutting back on fast food in favor of stuff she could make at home, like a Caesar salad with goat cheese. "I realized that I don't feel good after I eat fast food, but I'll still have it like once a month," she says.
"The endorphins I get when I lift make me feel really good, like a badass."
Being aware of her bod also helps Chaves keep her portions in check. "I eat when I'm hungry and I stop when I'm not hungry anymore," she says. Sounds simple, but she says the strategy made a huge impact on her goal.
Although she still isn't a huge fan of veggies, she's swapped sweet tea and soda for ye olde H2o. Her trick: "My friend and I compete to see who drinks the most water in a week and whoever loses has to buy the margs on Friday." Genius.
Her best tip
Chaves says the number one thing that helped her lose weight was consistently hitting the gym with her FBG app for an hour or so, four to five times a week. "I'm a creature of habit, and by working out at the same time every day, I'm keeping my physical and mental health in a good place," she says. And it's paid off: Three years after setting out to get in shape, she's lost 30 pounds and kept it off. "I see exercise as a way to challenge myself, not just a way to lose weight," she says. And she doesn't plan to stop anytime soon.
Source: Read Full Article