Pregnancy Outcomes on Long-Acting Antiretroviral
In a cautiously optimistic report, researchers described pregnancy outcomes in 25 women living with HIV in clinical trials of a new long-acting injectable antiretroviral regimen of cabotegravir and rilpivirine (CAB + RPV).
Among 10 live births, there was one birth defect (congenital ptosis, or droopy eyelid), which was not attributed to the trial drugs. There were no instances of perinatal HIV transmission at delivery or during the 1-year follow-up.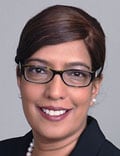 Parul Patel, PharmD
"Long-acting cabotegravir-rilpivirine is the first and only complete injectable regimen potentially available for pregnant women, said first author Parul Patel, PharmD, global medical affairs director for cabotegravir at ViiV Healthcare, in an interview with Medscape Medical News. The regimen was approved by the US Food and Drug Administration in January 2021 for injections every 4 weeks and in February 2022 for injections every 8 weeks.
"Importantly, it can be dosed monthly or every 2 months," Patel said. "This could be advantageous for women who are experiencing constant change during pregnancy. This could be a consideration for women who might have problems tolerating oral pills during pregnancy or might have problems with emesis."
The study was published in HIV Medicine.
"We are really pursuing the development of the long-acting version of cabotegravir in combination with rilpivirine," Patel said. "It's an industry standard during initial development that you start very conservatively and not allow a woman who is pregnant to continue dosing of a drug while still evaluating its overall safety profile. We really want to understand the use of this agent in nonpregnant adults before exposing pregnant women to active treatment."
Pregnancies in Trials Excluding Pregnant Women
In the paper, Patel and her co-authors noted the limited data on pregnant women exposed to CAB + RPV. They analyzed pregnancies in four phase 2b/3/3b clinical trials sponsored by ViiV Healthcare and a compassionate use program. All clinical trial participants first received oral CAB + RPV daily for 4 weeks to assess individual tolerance before the experimental long-acting injection of CAB + RPV every 4 weeks or every 8 weeks.
Women participants were required to use highly effective contraception during the trials and for at least 52 weeks after the last injection. Urine pregnancy tests were given at baseline, before each injection, and when pregnancy was suspected. If a pregnancy was detected, CAB + RPV (oral or long-acting injections) was discontinued and the woman switched to an alternative oral antiretroviral, unless she and her physician decided to continue with injections in the compassionate use program.
Pregnancy Outcomes
Among 25 reported pregnancies in 22 women during the trial, there were 10 live births. Nine of the mothers who delivered their babies to term had switched to an alternative antiretroviral regimen and maintained virologic suppression throughout pregnancy and postpartum, or the last available viral load assessment.
The 10th participant remained on long-acting CAB + RPV during her pregnancy and had a live birth with congenital ptosis that was resolving without treatment at the 4-month ophthalmology consult, the authors wrote. The mother experienced persistent low-level viremia before and throughout her pregnancy.
Two of the pregnancies occurred after the last monthly injection, during the washout period. Other studies have reported that each long-acting drug, CAB and RPV, can be detected more than 1 year after the last injection. In the new report, plasma CAB and RPV washout concentrations during pregnancy were within the range of those in nonpregnant women, the authors wrote.
Among the 14 participants with non–live birth outcomes, 13 switched to an alternative antiretroviral regimen during pregnancy and maintained virologic suppression through pregnancy and postpartum, or until their last viral assessment. The remaining participant received long-acting CAB + RPV and continued this treatment for the duration of their pregnancy.
"It's a very limited data set, so we're not in a position to be able to make definitive conclusions around long-acting cabotegravir-rilpivirine in pregnancy," Patel acknowledged. "But the data that we presented among the 25 women who were exposed to cabotegravir-rilpivirine looks reassuring."
Planned Studies During Pregnancy
Vani Vannappagari, MBBS, MPH, PhD, global head of epidemiology and real-world evidence at ViiV Healthcare and study co-author, told Medscape Medical News that the initial results are spurring promising new research.
"We are working with an external IMPAACT [International Maternal Pediatric Adolescent AIDS Clinical Trials Network] group on a clinical trial…to try to determine the appropriate dose of long-acting cabotegravir-rilpivirine during pregnancy," Vannappagari said. "The clinical trial will give us the immediate safety, dose information, and viral suppression rates for both the mother and the infant. But long-term safety, especially birth defects and any adverse pregnancy and neonatal outcomes, will come from our antiretroviral pregnancy registry and other noninterventional studies.
"In the very small cohort studied, [in] pregnancies that were continued after exposure to long-acting cabotegravir and rilpivirine in the first trimester, there were no significant adverse fetal outcomes identified," he said. "That's reassuring, as is the fact that at the time these patients were switched in early pregnancy, their viral loads were all undetectable at the time that their pregnancies were diagnosed."
Neil Silverman, MD, professor of clinical obstetrics and gynecology and director of the Infections in Pregnancy Program at UCLA Medical Center in Los Angeles, California, who was not associated with the study, provided a comment to Medscape Medical News.
"The larger question still remains why pregnant women were so actively excluded from the original study design when this trial was evaluating a newer long-acting preparation of two anti-HIV medications that otherwise would be perfectly fine to use during pregnancy?"
Silverman continued, "In this case, it's particularly frustrating since the present study was simply evaluating established medications currently being used to manage HIV infection, but in a newer longer-acting mode of administration by an injection every 2 months. If a patient had already been successfully managed on an oral antiviral regimen containing an integrase inhibitor and a non-nucleoside reverse transcriptase inhibitor, like the two drugs studied here, it would not be considered reasonable to switch that regimen simply because she was found to be pregnant."
Parul Patel and Vani Vannappagari are employees of ViiV Healthcare and stockholders of GlaxoSmithKline.
This analysis was funded by ViiV Healthcare, and all studies were co-funded by ViiV Healthcare and Janssen Research & Development. Silverman reported no relevant financial relationships.
HIV Med. Published online November 21, 2022. Full text
Myles Starr is a medical journalist based in New York City.
For more news, follow Medscape on Facebook, Twitter, Instagram, and YouTube
Source: Read Full Article